PHYLLIS J. BRONSON
BIOCHEMICAL CONSULTING COMPANY
BIOCHEMICAL RESEARCH FOUNDATION
(970) 920-2523
Phyllisbronsonphd@me.com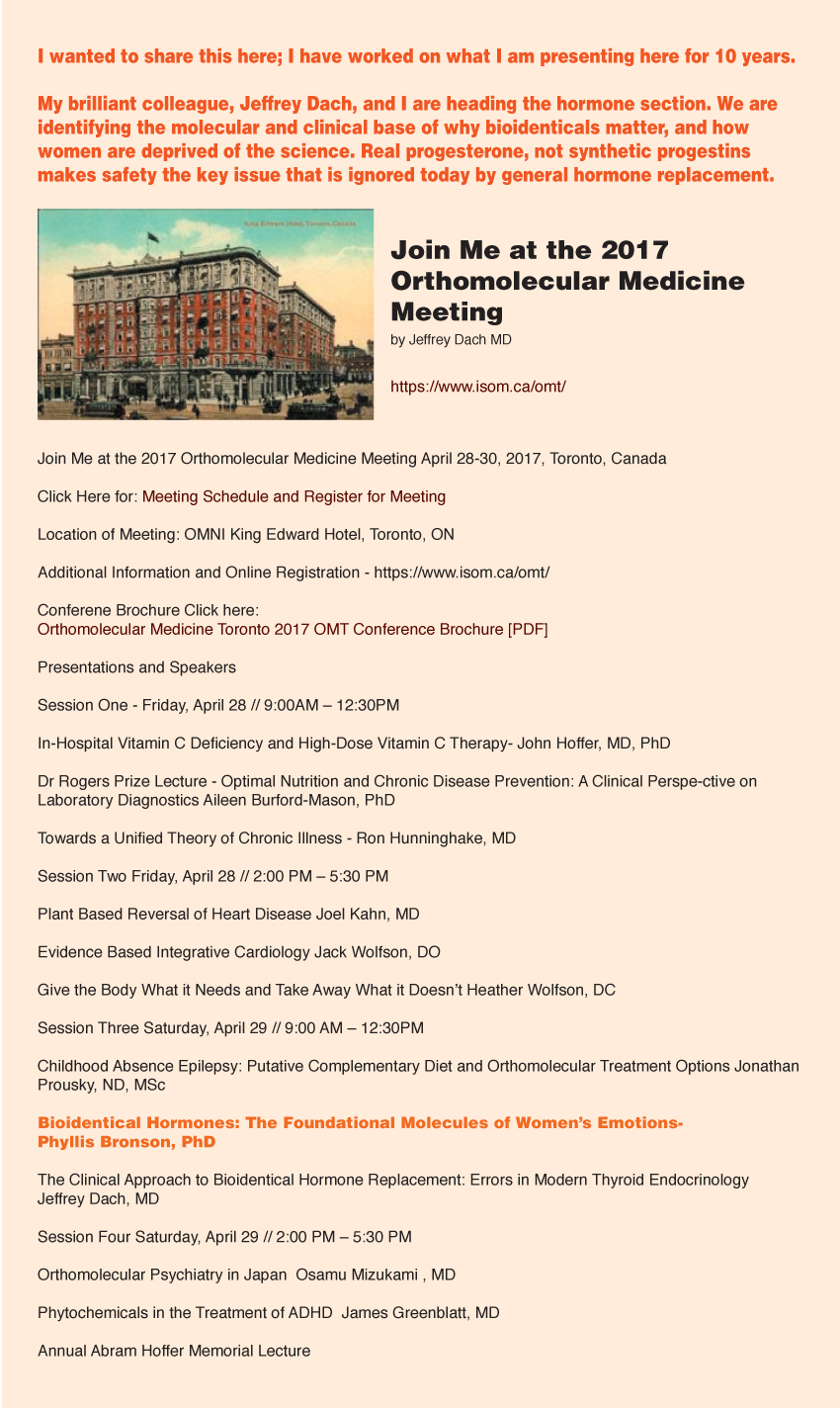 Join Me at the ICIM Meeting in Cincinnati in
April 2018 by Jeffrey Dach MD
Come to the ICIM Meeting in Cincinnati !!

Join me, Phyllis Bronson PhD, Elizabeth Vaughan MD, Karen von Merveldt-Guevara MD and many others: What Works to Achieve Hormone Balance? on April 17- 22, 2018 - ICIM International College of Integrative Medicine at the Kingsgate Marriott Conference Center, Cincinnati, OH. 45219

Click here for details: https://www.eventbrite.com/e/what-works-in-clinical-medicine

Main Congress: ICIM Cincinatti 2018

Resource people Jeffrey Dach MD, Karen von Merveldt-Guevara MD, Phyllis Bronson PhD, Hal Blatman MD, Barrie Tan PhD, Lou Diorio RPh, Dan Nelson MD, and Bryan J. Treacy, MD are on the agenda to present evidence about what works for hormone balance, manual medicine, controversies in nutritional supplementation, office compounding, and opioid addiction recovery.

Plus, we'll hear updates on Ozone with Frank Shallenburger MD, cord blood live cells therapies with A.J Farshchian MD, and an exciting lecture from Joel E. Mortensen MD, Director Diagnostic Infectious Diseases Testing Laboratory, at the Cincinnati Children's Hospital Medical Center: The future of flora analysis - culturomics to metagenomics. Above quote and Header Image Courtesy of ICIM

Virtual only later this summer
INTERNATIONAL COLLEGE OF INTEGRATIVE MEDICINE
WHY SLIGHTLY OLDER AND OLDER WOMEN NEED THEIR HORMONES,TOO!
"The Molecular Basis of Aging"

Phyllis Bronson, Ph.D. "Mood Biochemistry of Women: hormones past menopause"

Carol Petersen, RPh. CNP "Myth Busting"
The incredible contrast between real hormones and patented versions.

Jeffrey Dach, M.D. "Men need their hormones, too"

David Brownstein, M.D. "Aging and statin drugs."


"Endocrine Ecosystem: Balanced Hormones and Reduced Toxicity for patient Health and Happiness"
Sept 22-27, 2020
Dearborn Inn • Detroit, MI